Photo Hanoi '23 – International Photography Biennial is a one-month photography event taking place in Hà Nội. It was launched by the French Institute of Hà Nội (L'espace) with support from the Hà Nội People's Committee.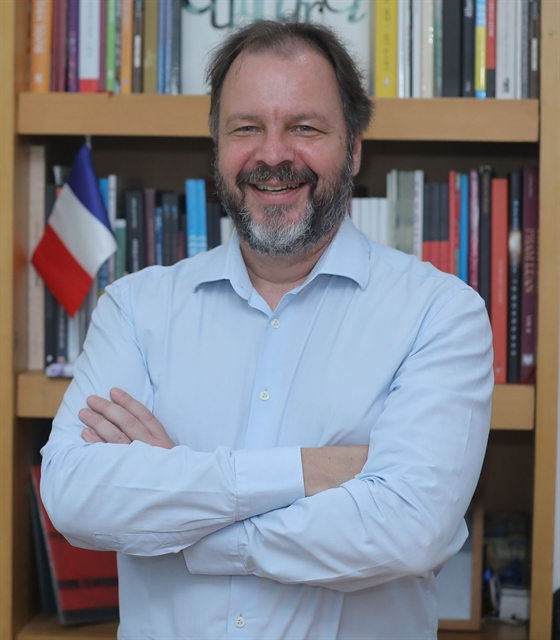 Photo Hanoi '23 – International Photography Biennial is a one-month photography event taking place in Hà Nội. It was launched by the French Institute of Hà Nội (L'Espace) with support from the Hà Nội People's Committee.
L'Espace's director and general coordinator of the project, Thierry Vergon, speaks about the event.
Could you tell me how was Photo Hanoi '23 project born?
We had many meetings in 2020 and 2021 with people involved in the art and cultural scenes in Hà Nội and Việt Nam.
We decided that photography was very interesting for many reasons, including the fact that photography is also a medium to promote other cultural activities.
Through photography, you can speak about architecture, fashion, design, even sports or any other related topics. So photography was one of the first disciplines that we wanted to explore, also because, in Việt Nam, there are very interesting young scenes of photographers and established photographers.
Biennales are now a very common format to promote visual arts worldwide. So discussing with both Vietnamese artists and Vietnamese cultural institutions like galleries; exhibition centres; curators, and Vietnamese authorities, we all thought together that it could be a good idea to have a bigger-scale event dedicated to photography.
This led us to organise Hà Nội City Photo Hanoi '23, the first edition of the International Photography Biennial.
What do you expect from the event?
We also expect to give really good exposure to what is happening in Việt Nam. It is also very good for Vietnamese photographers and the Vietnamese public to be exposed to international works to establish a dialogue between arts from Việt Nam and arts from other parts of the world.
It helps to create a better understanding of each other's culture. It helps the scene gain maturity by showing lead examples of what is done in photography in the world, expressing photography as a form of art but also on how to promote and expose it, which are very important aspects.
There is a lack in Việt Nam, for instance, of curators for photography. This is perhaps something that will help experts try to become more involved in creating photographic exhibitions.
When the communication is properly done and successful, for a city like Hà Nội, this event is a very important tool for attractivity. For tourism, of course, culture is always a very strong way of promoting a city; more generally, it gives the city a new image in the world.
For example, Paris is the first destination for tourism in the world. Why do you think it is? Mainly because Paris invested a lot in culture: museums, events …etc…. Many people come to Paris perhaps because it's a romantic capital but more importantly, because there are so many cultural activities and exhibitions you can spend your time on.
I think it's very important for a city like Hà Nội to play this card, to develop big events like Photo Hanoi and promote attractive events for the public.
How will the festival promote creativity and give career opportunities to young talents?
It is an opportunity for some photographers whose work is not yet known; it is a chance for them to present their work.
The first thing is to create a playground for them to present their work and meet other photographers. It is very important to create collective action for photographers they can relate to.
This is a good aspect to give them a purpose. They know that every year they can take advantage of this moment to show their work, speak about their techniques, learn new ones and participate in discussions.
The programme of the round tables is there to help the communication between students, people and photographers to bring a perspective on what is possible, how to know better about what's happening in photography in the world and how to build their career around it.
Photography is not something you find easily in galleries. Most of the time, galleries expose paintings, sculptures, installations or videos.
Photography is sometimes included in what is exhibited. In Photo Hanoi, we will only show photography. It is a way to elevate and promote photography as an art, not only as a visual art but as a proper discipline.
This is an important factor for photographers but also for people discovering that it can be interesting for them.
I know some people are buying art in Việt Nam, but I'm not sure they are interested yet in buying photography. Therefore, it could be an opportunity to develop the market for photography as an art.
Could you introduce the photographers at the event?
It is always difficult to only talk about one, two, or three names. I will talk about a French photographer, Robert Doisneau, who was active around the 1960s and is considered one of the godfathers of French photography.
He's never been exhibited in Việt Nam. We will have Photo Hanoi, the first-ever exhibition with 30 of his original photographs. I hope this will give the visitors more insight into the history of photography.
I want to talk about another person who is very important in Việt Nam, in the world of visual arts and who was very involved in PhotoHanoi, is Nguyễn Thế Sơn.
He is a curator for some exhibitions. He is also exhibited as a photographer. He is also involved as an expert because I am not a photographer, so I need some experts to come and give advice on who to select, how to work with the exhibitions, what is interesting in Việt Nam and so on. So he is a very important figure in the exhibition.
Will the festival make Hà Nội City popular as a destination for photography?
This is not just a partnership between Hà Nội City and the French Institute. We have several countries involved in helping organise exhibitions and activities, like Germany, Italy, Spain, the US, Argentina, Japan, Hungary, Switzerland, the UK and Belgium.
There are already many partners who agreed to travel with us through this journey of organising this event.
So those partners will also promote in their networks the biennale of PhotoHanoi. It is the first step in making the event known abroad through the networks of the partners.
And then, depending on every specific case, some international artists who exhibit are Vietnamese residents. So the international exposure they can give is perhaps less important than other people that we invite from different countries, who can then relay the message and what they thought of being at that event.
And, of course, we hope that the guests will be available to spread the message and want to return for further editions.
Source : VNS